The world at large is trying to make every effort to move towards a cleaner and sustainable future. Carbon free or emission free growth is a major goal that most of the nations in the world are trying to achieve. The steps towards this direction have already been initiated. One of those steps is harnessing power from renewable sources like wind and solar. Generation of energy by harnessing wind and sunlight is one of the most sustainable ways for power generation. The process involves no toxic pollutants or global warming emissions. Measures and policies have been put in place to realize the full wind energy and solar energy generation potential in India. Amidst all these steps towards a cleaner future, citizens in India too can contribute in their own way to reduce air pollution.
This post brings to you five steps that every citizen must take to help reduce air pollution levels in their city or town:
Car Pooling to Work

– Private vehicles are one of the major contributors to air pollution. If the number of vehicles plying on roads on a daily basis can be reduced, there would be a significant impact on air pollution. So, people who go to work in their private 4-wheelers can opt for car pooling so that 4-5 people can use a single vehicle to travel to their workplace and come back home. While it will reduce the air pollution levels, it will also bring in more savings in the form of lesser fuel bills and cause lesser traffic congestion. There is a growing trend of car pooling in big cities such as Delhi NCR, Bangalore, Hyderabad, Pune, and Mumbai.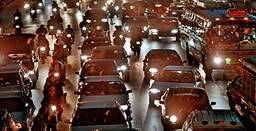 Say 'No' to Diesel Cars

– Luxury SUVs and other diesel cars above 2000cc are regarded as a major source of vehicular emissions causing higher levels of air pollution. Citizens must be rational when it comes to buying such vehicles. A drop in the number of diesel cars in city roads can go a long way in curbing the harmful levels of emissions.
Frequent Use of Public Transport

or Non-polluting Modes of Transport

– If people use public transport more often instead of using their private vehicles, it will prove to be a significant move towards lowering air pollution. People can also make more frequent use of non-motorized bicycles or bikes, which do not emit any harmful pollutants into the sir.
No Burning of Waste

– People should also restrain themselves from burning waste such as papers, clothing items, and other junk as burning of such waste leads to harmful carbon-emissions. Even burning of crop residue should be immediately stopped.
Regular Pollution Check for Vehicles

– It is also important for every citizen to get their private vehicles checked for pollution and emissions on a regular basis. Currently, it is quite a common thing to see a large number of vehicles on road emitting smoke. Such emissions severely deteriorate the air quality.
Government's efforts to continuously adopt new measures and implement new standards and policies to curb air pollution are absolutely necessary. Meanwhile, citizens must also make every effort to bring down the air pollution levels through certain simple means as discussed above. In addition, by harnessing the solar energy generation and wind energy generation potential in India, greater control over harmful emissions can be achieved.