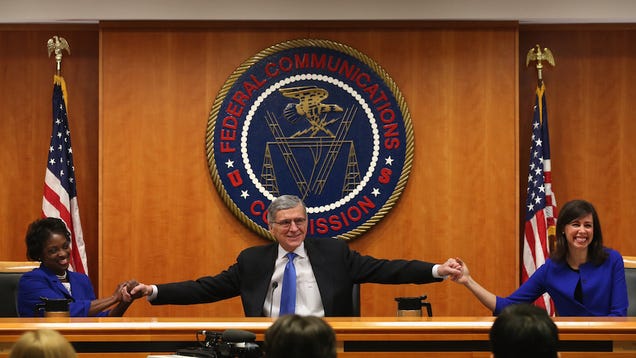 Before getting into the meat of it, what is Net Neutrality? Net neutrality is that all data is treated equally on the network, regardless of purpose or starting point. Under this principle, the ISPs – like Verizon or AT & T – should carry the same conditions data to their customers, they come from the site of a giant set Web site like Google or a small association. Without the application of net neutrality, the Internet service providers, who are already paying their connection to their customers, could charge content providers (web sites, video sites …) to use their "pipes". And book the best payers a "fast track" on their infrastructure. Advocates of net neutrality fear that this will lead to a two-tiered Internet and stifle innovation.
Without net neutrality, it would be impossible for small startups to launch new high-performance services to compete with the established players. For consumers, this could result in much faster than other sites, unwanted blocking certain websites or a different billing based on the services and websites that the user visits. Having already experienced scenario, are the subscribers to Netflix that are also customers of Comcast. The connection speed of the famous video site with a Comcast subscription has drastically declined until the company agrees to get out the checkbook to pay for a better connection.
For their part, opponents of net neutrality, mainly large telecommunications companies fear that stronger regulation of their sector dries up investment in infrastructure needed to support the growing use of the Internet. In the United States, this fear is coupled with the usual distrust of some of the Republicans against any form of "government interference" in the private sector. "Net neutrality is a" Obamacare "of the Internet. Internet should not operate at the speed of government, "was launched in November Republican Senator Ted Cruz.
In the US, there's been a crucial victory for Net Neutrality. The US telecommunications regulator announced after years of debate and lobbying new rules for the processing of data on the Web. The Federal Communications Commission (FCC), the regulator of US communications finally took a firm stance on Thursday, February 26th, in the neutral file web in the United States. The five commissioners who direct the FCC voted at a three votes against two that US Internet should now be considered a "public good" just as the telephone network, which gives the Commission the power to enforce neutrality Internet in the US.
The FCC also endorsed a document of more than three hundred pages – of which only the very substance has been released to date – that will guide its work in this direction. The Commission may now prohibit internet service providers (ISP) from arbitrarily blocking legal content, to slow down or speed up the flow of data without justification or prioritize certain content passing through their network fee.
This decision is a true victory for advocates of net neutrality, although some details still worry the strongest advocates of this principle. "This is a very important day for the Internet and its users. The FCC adopts rules and ensures real net neutrality," states Erik Stallman, the director of the Open Internet Project, an organizations that have lobbied for the decision by the FCC. Telecommunications operators were strongly opposed to the document. In a statement written in a typeface imitating the typewriter, the US telecommunications giant Verizon wrote disgruntled, "the FCC approved new rules pushed by President Obama, which required rules dating back to the time of the steam engine and the telegraph [the law on which the FCC relies to make its rules in fact dates from the 1930s]."