Canadian singer-songwriter Ed Roman exploded onto the worldwide music scene in 2014, with his critically acclaimed ode to his northern homeland, Letters From High Latitudes. The award-winning album received airplay on more than 100 college and am/fm radio stations in North America, while being heard on over 400 stations worldwide. From the alternative indie rock Billy Joel-meets-Dave Matthews track, "I Told You So" to the soulful reggae jam, "Jamaica" and his socio-political earth song, "I Found God," Ed enlisted legions of devoted fans, affectionately known as "Ed Heads."
Now, Ed Roman is back with a brand new, vividly colorful and ominously titled collection, Red Omen.  Produced with renowned engineer, Michael Jack (Bono, Hillary Duff, Rush), the new album continues Ed's eclectic, earthy, funky and magical journey through all genres of music. From the bass-heavy groove of first single, "I Am Love" to the punk-meets-metal blast of "Clone The Sheep" featuring the blistering lead guitar of renowned guitarist, Xander Demos (Sabbath Judas Sabbath, XDB) to the fully-produced version of his tender Heart Songs for Veterans acoustic benefit single and Top 10 Yallwire.com video, "Lay One Down," and beyond…Red Omen has something for every listener and every mood.
Red Omen is available for pre-order now at https://itunes.apple.com/us/album/red-omen/id1118673318.  The official worldwide release date is Tuesday, June 7th, 2016.
Watch a "behind the scenes" video featuring first single, "I Am Love" at https://www.youtube.com/watch?v=SJPh4xT3LRQ.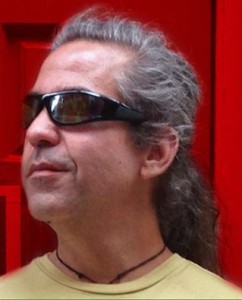 Ed Roman is a 2014 Artists Music Guild Award Nominee, a 2014 International Music and Entertainment Association Award Winner, a two-time 2015 IMEA Award nominee, a Josie Show Awards nominee, an Akademia Awards Winner, and a two-time Indie Music Channel Award winner. Ed has performed at the Red Gorilla Music Fest during SXSW, The Millennium Music Conference, and SS Cape May, and he has toured both New York City and Philly. In 2015, this Top 100 MTV.com and #1 Reverbnation artist traveled to Jamaica to deliver much-needed humanitarian aid to the island, while shooting the music video for "Jamaica." Ed is also a Heart Songs for Veterans artist, donating money to help veterans.  For more information on Ed Roman, please visit http://www.edroman.net.
http://www.facebook.com/edromanmusic
http://www.twitter.com/specialedroman