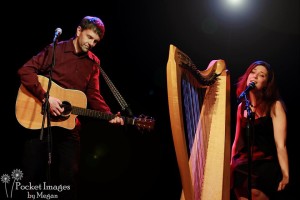 JUNE 15, 2015 – ASHLAND, OR — Folk-pop duo, March To May'have announced a series of summer tour dates in support of their debut EP, "The Water's Edge."  The tour will have the pair returning to bandmember Elizabeth Wesche's hometown of Ashland, Oregon on July 5th.  March To May recently spent five straight weeks at #1 on the Y'allwire  Most Watched Videos chart, with their debut single, "Embers."
Confirmed tour dates are:
La Conner, WA – 6/24
Anelia's Restaurant
Hood River, OR – 7/2
RSVPs to: paul@speedfish.com
Medford, OR – 7/3
This will be a large-scale house concert (i.e. RSVP required, but the hosts are booking out a larger venue in their community to accommodate more people)
RSVPs to: info@marchtomay.com
Ashland, OR – 7/5
Benefit concert for Ashland Tennis and Fitness Club
RSVPs to: info@marchtomay.com
Seattle, WA – 7/9
M-bibe Dimensions Concert
Elizabeth Wesche is a graduate of Ashland High School, where she grew up singing in Concert, Treble and Chamber Choir.  She also began developing her trademark harp-playing skills, while in Ashland.  Elizabeth's parents currently reside in Medford, Oregon.
March To May's Darren Guyaz (guitar, vocals, keyboard) and Beth Wesche (Celtic harp, vocals)  first met in December 2012.  By March 2013, the folk/indie/Americana duo had co-written their first two songs, by April they had a paid gig under their belts, and by May they had a name and shows booked out into the months ahead. Before settling in Seattle, Washington, where the act is now based, both Darren and Beth had traversed the Western Hemisphere separately.  Darren migrated from the northern Appalachians to his birth-state of Montana, before heading on a South American adventure across the Andes mountain range, eventually falling in love with Seattle and the Pacific Northwest.  The daughter of a US Foreign Service Officer, Beth also spent time in the Andes, as well as a host of US states on both coasts, before moving to Seattle, just blocks from where her beloved Celtic harp had been created, years before.  The duo has drawn comparisons to acts like The Civil Wars, Damien Rice, the Swell Season, The Banner Days, and Robert Plant and Alison Krauss.  Released in April 2015, The Water's Edge is the debut release from March To May.  For more information, visit www.marchtomay.com.