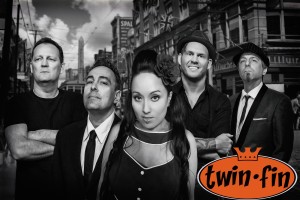 "It is a deep and dark trip to another time…when clubs and  private bars were filled with killers, hard drugs and alcohol by the barrels…when music was strictly for releasing the 'other' side in people…" – Canadian Beats
Twin-Fin's high-energy music has topped national jazz and blues radio airplay charts (since March of 2016.) Their swingin' songs have been streamed more than 3 million times in wildly popular viral videos. They have performed for raucous and rollicking swingabilly audiences from London Music Hall to the East End Rockabilly Riot and Rockabilly Shake Up.
Now, London, Ontario-based rockabilly-swing, blues and jazz band, Twin-Fin and Infinite Entertainment Group are happy to announce the September 18, 2016  worldwide release of the band's debut album, Whiskey Wine and Venom Love. The album features 10 original songs of gin-soaked deception, debauchery, and determination, including the band's #1 radio hits, "Straight Six and Four on the Floor" and "Jungle Room."
Watch the brand new video release for "Jungle Room" at https://www.youtube.com/watch?v=whkmXI4bQUI.
Whiskey Wine and Venom Love was was produced, recorded and engineered by Cole G. Benjamin, at Higher Ground Sound and mastered by Juno Award Winner, Dan Brodbeck.
Track Listing:
01 Jungle Room
02 Devil Girl Stomp
03 Long Gone Daddy
04 Rocco Perri
05 City Of Sin
06 Whiskey Wine & Venom Love
07 Let's Get Drinkin'
08 Straight Six and Four on the Floor
09 Won't Let You Go
10 Jalopy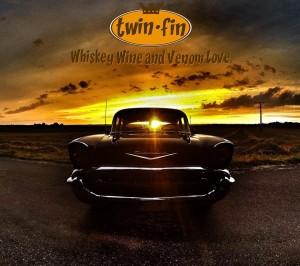 Twin-Fin is:
Dana MacCabe: Vocals, Guitar Cole G Benjamin: Vocals, Saxophone Paul Wickerson: Guitar, Vocals Eric Roelofsen: Upright Bass, Vocals Brad Ondrovcik: Drums
Twin-Fin is high energy Swing, Rockabilly, Blues and Jazz. Based in London, Ontario, this 5-piece band loves to perform original songs along with repertoire by Janis Martin, Louis Prima, Brian Setzer, and Tarantino soundtracks to keep the shows jumpin'. With over 3 million views, their song, "Rocco Perri" is the musical backdrop for the Cherry Dollface vintage curly hair tutorial: https://www.youtube.com/watch?v=Uw90n9zWEGE. For more information on Twin-Fin, please visit http://www.twinfinband.com.
"…equal parts R&B jump band's honk & stroll, Duane Eddy and Harlem Nocturne…when MacCabe is singing the title song it sounds like 'whiskey, wine and venom love' which is just the brand of Rocket 88 fuel a Twin-Fin needs to smooth the bumpy ride of love" – James Reaney, London Free Press
"…don't expect any of this to sound like anything you've ever heard. This is a wild, colorful patchwork of different sounds and styles – refreshingly smart and original." — Rick Jamm, Jampshere