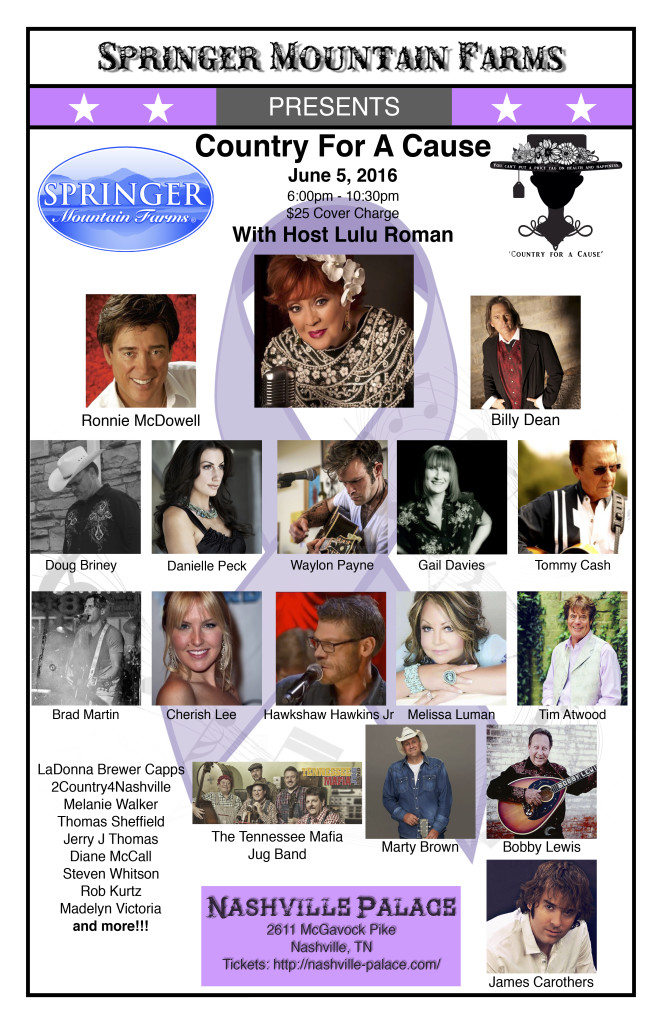 On June 5, 2016, country legends, Ronnie McDowell and Billy Dean, along with a star-studded bill of more than twenty renowned acts, will join host, Country Gospel Music Hall of Fame artist, Lulu Roman for "Country For A Cause," a benefit for cancer charities. The event will take place at Nashville Palace, located at 2611 McGavock Pike, in Nashville, TN. Doors Open at 5:30pm. Show runs from 6-10:30pm. Tickets for the event are $30. For more information, call (615) 889-1540 or visit www.nashville-palace.com.
The full lineup for "Country For A Cause" includes: Lulu Roman, Ronnie McDowell, Billy Dean, Doug Briney, Danielle Peck, Waylon Payne, Gail Davies, Tommy Cash, Brad Martin, Cherish Lee, Hawkshaw Hawkins, Jr., Melissa Luman, Tim Atwood, Bobby Lewis, James Carothers, Marty Brown, Madelyn Victoria, Ladonna Brewer Capps, 2Country4Nashville, Melanie Walker, Thomas Sheffield, Jerry J. Thomas, Diane McCall, Steven Whitson, Rob Kurtz, and many surprise guests.
The concert will benefit Pearl Point (formerly Minnie Pearl Cancer Foundation) and an adopted family that is battling cancer. Springer Mountain Farms Chicken is sponsoring the event.