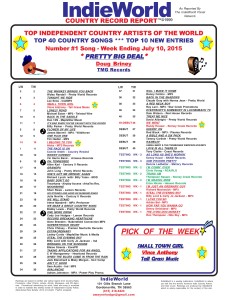 MTS Management Group is happy to announce Doug Briney has topped the IndieWorld Country Record Report for weekending July 10, 2015, with his Tate Music Group single release, "Pretty Big Deal." The track is taken from his second album, Super Country Cowboy. This is Doug's first number one on IndieWorld, having previously charted with "Unknown Soldier (#27.)  Other artists in the Top 20 include Irlene Mandrell, Bobby Lewis, Connie Smith and Hicks.  Watch the lyric video at https://www.youtube.com/watch?v=izVKmtlPar0.
Doug has also announced additional tour dates for July and August, including openers for country legends, Lulu Roman, T Graham Brown and Georgette Jones:
July 17 – Larry's Grand Ol' Garage, Madison, TN with T. Graham Brown, Georgette Jones and more.
July 25 – First Baptist Church, Old Hickory, TN with Lulu Roman
July 31 – TexasSounds International Country Awards, Jefferson, TX
Aug 6 – Schmitt's Saloon, Morgantown, WV
Aug 8 – Holiday Park United Methodist Church, Plum, PA
Aug 8 – 19th Hole, Uniontown, PA
Aug 16 – Barbstock, Pulaski, TN to salute our veterans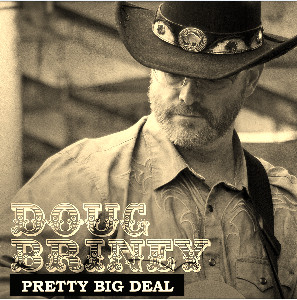 Doug Briney is an Award-winning country music artist and pastor, who spent more than 20 years in Anchorage, Alaska.  Now based in Nashville, TN,  Doug's debut album, It's All Country received international airplay and chart success, reaching Top 10 status on both the itunes Country New Release sales chart and the Roots Music Report airplay charts.  His follow up, Super Country Cowboy has achieved similar success.  Doug is a proud member of the Country Music Association. Independently, Doug generously donated his profits from his single release, "Unknown Soldier," to veterans' charities. The video won Best Music Video at the 2014 International Music and Entertainment Awards in Ashland, KY. He is currently working with the National Parkinson's Foundation to raise funds for the charity via the release of "Parkinson's Song."  His latest single, "Pretty Big Deal" reached #1 on the world's oldest independent country chart, IndieWorld.
The IndieWorld Country Record Report was established in 1981. Since its founding, IndieWorld has received more than 1 million visits to its website. The IndieWorld Report is considered as the most authoritative Independent Country Music chart in the industry. "IndieWorld takes pride in knowing that we provide "initial" recognition, and a career building process for some of the world's foremost "Indie" country talent."   Attainment of a Top 40 position on the IndieWorld Report means the artist and/or song has received a general reception in many of the world's markets.   Songs making the IndieWorld chart have reached the level of early International "Awareness".