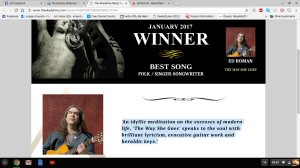 MTS Management Group is pleased to announce Ed Roman and JJ McGuigan are winners in the January 2017 Akademia Awards. Roman, a Canadian singer-songwriter from Ontario, won for Best Folk/Singer-Songwriter Song, "The Way She Goes." McGuigan, a Wichita, Kansas guitarist/songwriter won for Best Alternative Song, "Letter."  Ed is a previous Akademia Award winner for Best Reggae Song, "Jamaica." This is the first win for McGuigan.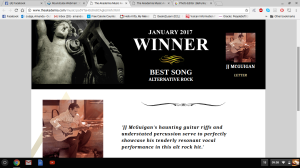 Akademia Award Winners are determined by the general voting process held by an expert panel of six judges, who are all former senior executives and industry veterans, from some of the largest record companies. Past winners include country rocker, Chase Allan; Grammy Winner, Ricky Kej; and Music Row-charting Swedish artist, Hicks.
"I am so proud of both Ed and JJ," said Michael Stover of MTS Management Group. "Both artists are extremely talented and driven, and to have them recognized by leaders in the industry is a tremendous and well-deserved honor."
Watch Ed Roman's video, "The Way She Goes" at https://www.youtube.com/watch?v=DRUpJm9dq04.
Watch the lyric video for "Letter" by JJ McGuigan at https://www.youtube.com/watch?v=pyNGFEuRe2A.
ABOUT AKADEMIA AWARDS: Located in Los Angeles, California, The Akademia Music Awards is dedicated to recognizing excellence in music throughout the world and supporting musicians interested in receiving a higher degree of market exposure and professional recognition for their work. www.theakademia.com
ABOUT ED ROMAN: Ed Roman is an Award-winning singer/songwriter, performer and multi-instrumentalist from Shelburne, Ontario, Canada.  Blurring the lines between pop, rock, folk, and country music genres, Ed's uniquely crafted songs have received regular rotation on more than 100 terrestrial radio stations across North America and more than 400 stations, worldwide.  Ed is a 2014 Artists Music Guild Award Nominee, a 2014 International Music and Entertainment Association Award Winner, a two-time 2015 IMEA Award nominee, a 2015 and 2016 Josie Show Awards winner, an Akademia Awards Winner, and a two-time Indie Music Channel Award winner. www.edroman.net
ABOUT JJ MCGUIGAN: JJ McGuigan is a VH1 Save The Music Songwriting Contest Finalist and mental health advocate.  A drummer since age 13, McGuigan later picked up the guitar and began writing songs at age 20. He attended Newman University and renowned recording school, Full Sail University.  Songwriting has now become JJ's main focus and passion, with an emphasis on lyrical creation.  After a brief stint in Austin, Texas, he has returned to his hometown of Wichita. He is currently working on a follow up EP for 2017 release. For more information on JJ McGuigan, please visit www.jjmcguiganmusic.com.