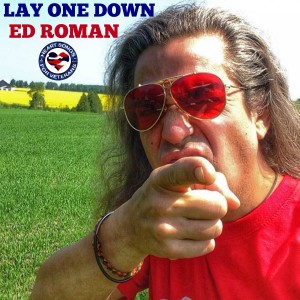 Award-winning Canadian singer-songwriter and multi-instrumentalist, Ed Roman is launching a global interactive video project for his new music video, "Lay One Down." Roman is asking fans around the world to submit short video clips, to be used in the finished video. Deadline for submissions is March 14, 2016 with an expected spring video release date on VEVO.  Fans should visit the event page at https://www.facebook.com/events/515034038667784/, where they can post their video clips directly to the page. The single, released on Veterans Day 2015, is a benefit for military personnel, through Heart Songs for Veterans.
Watch Ed Roman's video promo for the project: https://www.youtube.com/watch?v=6mJJWxUCpKQ
"We all as human beings are going through struggles on this beautiful blue ball," says Roman. "Our differences don't separate us as greatly as we think. We must remember to 'lay down' our aggressions toward so many things in the 21st-century. We must remember that we are all human beings, going through this life together…Not the struggles that the media keeps forcing down our throats, but in fact, in the hearts of minds, of every living thing on this planet."
"Lay One Down" was written and recorded by Ed Roman at Area 51 studios in Ontario, Canada. The track was produced by Michael Jack, during Ed's sessions for his upcoming 2016 album release, Red Omen.
Heart Songs For Veterans is a Music initiative created to help veterans, active military personnel and wounded warriors. Singer/Songwriters donate their new song releases, ep's or full length album's and a portion of the royalties are paid forward to Veteran organizations. Heart Songs For Veterans is also home to "Project Lips Radio Show." For more information, visit http://www.heartsongsforveterans.org.
About Ed Roman: Ed Roman is an Award-winning singer/songwriter, performer and multi-instrumentalist from Shelburne, Ontario, Canada.  Blurring the lines between pop, rock, folk, and country music genres, Ed's uniquely crafted songs have received regular rotation on more than 100 terrestrial radio stations across North America.  Ed is a 2014 Artists Music Guild Award Nominee and a 2014 Artists In Music Award Nominee.  He is also a 2014 International Music and Entertainment Association Award Winner, a two-time 2015 IMEA Award nominee, a Josie Show Awards nominee, an Akademia Awards Winner,  and a two-time Indie Music Channel Award winner. Ed has performed at the Red Gorilla Music Fest during SXSW, The Millennium Music Conference, and SS Cape May, and he has toured New York City and Philly in July 2015. Recently, this Top 100 MTV.com artist traveled to Jamaica to deliver much-needed humanitarian aid to the island, while shooting the music video for "Jamaica." Ed is also a Heart Songs for Veterans artist, donating money to help veterans. His current album, Letters From High Latitudes (an homage to his Ontario home) is a critically-acclaimed vehicle for Ed's socio-political, earthly-conscious and globally-aware messages.  This earthy, funky and magical mix of music has earned Ed Roman airplay chart recognition and won over legions of fans around the world, known as "Ed Heads."  http://www.edroman.net