He's a messenger…He's a radical…He is Love…"The Godfather of Love," to be more precise!  Award-winning Canadian singer-songwriter and multi-instrumentalist Ed Roman donned his Don alter-ego, the "Godfather of Love," for his just-released new music video, "I Am Love." From red velvet hat to red pinstripe suit, to shiny red leather shoes, "The Godfather" commands the camera and makes the viewer "an offer you can't refuse:" Watch the new "I Am Love" video at https://youtu.be/f3K7mfcMfQE.
Roman said of the new self-directed video release, "17 1/2 hours of editing. Shot and directed by myself: lighting, storyboard, cinematography and editing. Not to mention the entire song is played by me. Ed is a lone wolf…"
"I Am Love" is taken from Ed Roman's latest Michael Jack-produced cd, Red Omen, released on June 7, 2016. The CD was named Hit Tracks Top 100 Countdown's "CD of the Week." The album also features his recent Top 10 Yallwire.com video, "Lay One Down," a benefit for Heart Songs for Veterans.
"Ed Roman's "Red Omen" is an earnest infinitely catchy piece of pop, one full of pure joy." – Beach Sloth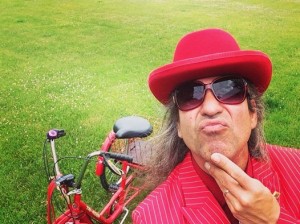 ""I Am Love" is groovy and danceable, and the happiness level is off the charts infectious!" – Music Connection Dayton
"Red Omen" gets 4 out of 5 stars!" – Markos Papadatos, Digital Journal
Ed Roman is a 2014 Artists Music Guild Award Nominee, a 2014 International Music and Entertainment Association Award Winner, a two-time 2015 IMEA Award nominee, a Josie Show Awards nominee, an Akademia Awards Winner, and a two-time Indie Music Channel Award winner. Ed has performed at the Red Gorilla Music Fest during SXSW, The Millennium Music Conference, and SS Cape May, and he has toured both New York City and Philly. In 2015, this Top 100 MTV.com and #1 Reverbnation artist traveled to Jamaica to deliver much-needed humanitarian aid to the island, while shooting the music video for "Jamaica." Ed is also a Heart Songs for Veterans artist, donating money to help veterans.  For more information on Ed Roman, please visit http://www.edroman.net.
http://www.facebook.com/edromanmusic
http://www.twitter.com/specialedroman