One certainty in any given Premier League season is that three bottom football clubs are relegated from the Championship race when they fail to reach the 40-point target. Relegation candidates face a tense final few games in order to remain above relegation zone and one such game affected two football clubs on Saturday, 21st February 2015 at the KC Stadium. Hull City's and QPR's fortunes improved this time after a 2-1 win victory of Hull City over Queens Park Rangers (QPR). Both clubs were out after much-needed victories and they are above the relegation zone now. The result moves Hull up to 15th in the League Table, while QPR is above the relegation zone due to goal difference with games against Arsenal.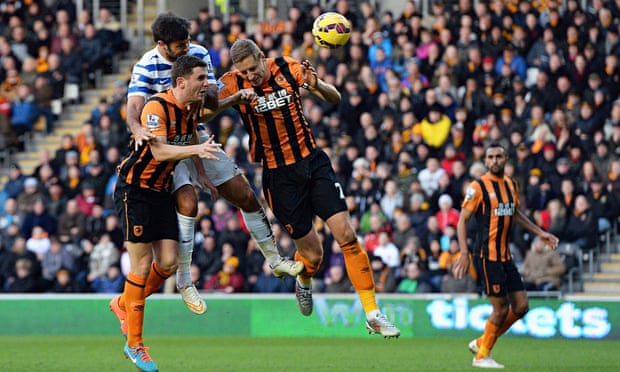 The Saturday match was a must-win game for both sides. Hull City's Nikica Jelavic and Dame N'Doye scored the goals to earn victory for team. On the other hand, red card given to QPR's Joey Barton turned out to be very costly for the team as after that N'Doye was able to strike a goal in the 89th minute. Hull City's second goal from N'Doye was the perfect way to mark his 30th birthday. In the 90th minute, Hull went for the win, but QPR was indebted to several impressive saves from Robert Green. His defensive way against Hull was the most eye-catching for all to see in the Saturday match.
QPR boss, Chris Ramsey will be looking for an improved performance to stay out of trouble. Ramsey believes that his team held on well in the match against Hull even though they played with 10 men since the 32nd minute. QPR skipper Joey Barton has said in a statement that he is "gutted" to have been sent off in Saturday's defeat.
Ramsey, who headed the team in their first away points of the season in victory at Sunderland, has signed new footballers during January transfer window. Former defender of Manchester United and England, Rio Ferdinand is among one of those new signings. Ferdinand, who has also been signed as a brand ambassador for the online casino operator CasinoFloor.com, is acting as a mentor to the QPR's youngsters.
Definitely, Hull City has benefited from the arrival of a new striker while QPR's chances of survival will depend on keeping their own star forward fit. Three important matches are next for QPR; each against Arsenal, Tottenham and Crystal Palace. It is essential that QPR's experienced players, such as Rio, Bobby Zamora and Robert Green, get some points on the board in these games if they want to keep their heads above water.