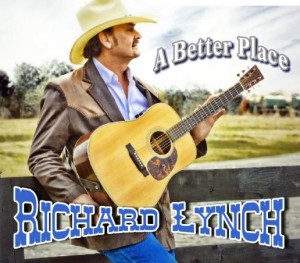 Independent Country Music Hall of Fame inductee, Richard Lynch has debuted at Number One on the Roots Music Report True Country Singles Chart (weekending March 27, 2016) with his latest single, "A Better Place." The single, written by Billy Yates and Trent Tomlinson, bested releases by Stella Parton, Kacey Musgraves, and Chris Bellamy, among others. The track is the title cut from his Academy of Western Artists award-winning album, which is charting at #3 on the True Country Albums Chart.  View the singles chart at http://www.rootsmusicreport.com/charts/view/song/sub_genre/true-country/weekly/2016-03-27/2016-03-27/.
"A Better Place" features Lynch's hauntingly beautiful and emotional vocal alongside a who's who of the best musicians in country music: Eddie Bayers, drums (Garth Brooks, George Strait); Eli Beaird, bass (Joey+Rory, Willie Nelson/Merle Haggard); Scotty Sanders, steel and dobro (Trace Adkins, Dierks Bentley); Jeff King, electric guitar (Reba, Luke Bryan); Steve Nathan, piano, keys, synth (Tim McGraw; Toby Keith); Hyram Posey, fiddle (Grand Ol' Opry); Larry Franklin, fiddle (Lorrie Morgan, Alan Jackson); Larry Beaird, acoustic guitar (Rascal Flatts, Brooks and Dunn); Billy Yates (Sara Evans, Kenny Chesney) and Russell Terrell, backing vocals (Clint Black, Darius Rucker.)
A Better Place was released on the MOD Label.  Promotions are by Twang Thang Country – Nashville, TN. Publicity by MTS Management Group – Pittsburgh, PA.
Living the life he sings about is what gives Richard Lynch the edge as a singer/songwriter. Richard is a hard working, blue collar man. He is a designer and builder of amazing barns, and as should be expected, he is an American farmer. His everyday life and paying his musical dues by performing at 100's of events & shows a year, all across the country, is that which shaped him into a one-of-a-kind performer. Richard's style is true and it carries into his live shows. Much like his music alone, a live performance of the Richard Lynch Band is something you feel. It's something you carry with you when you walk away. If country music is a gift that sustains in our lives wherever we go, Richard Lynch is the messenger.
For more information on Richard Lynch, including tour dates, please visit http://www.richardlynchband.com.
https://www.reverbnation.com/richardlynchband
https://www.facebook.com/RichardLynchBand
https://www.youtube.com/channel/UCaKcjmaNkNR4IdXCgTHfhIA
https://vimeo.com/channels/richardlynchband