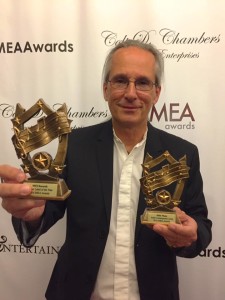 Eddy Mann and MTS Records are winners at the 2016 International Music and Entertainment Association Awards. Philadelphia-based inspirational singer-songwriter and worship leader, Eddy Mann was named Adult Contemporary Artist of the Year, while MTS took home the Record Label of the Year award, for the 2nd year running. The 4th annual IMEA Awards were held on Saturday at Tucker Theater in Murfreesboro, Tennessee. For a complete list of the 2016 IMEA Award winners, please visit http://www.imeaawards.com/winners/2016-winners/.
Eddy Mann was also nominated for Best AC Song, for "You, You Make Me Feel," and MTS was also nominated for Manager of the Year, an award they won in 2013 and 2014.
"To the IMEA Awards: thanks for recognizing and supporting indie artists, and to MTS Management Group/MTS Records," said a visibly emotional Eddy Mann. Watch Eddy Mann's thank you video on Facebook at https://www.facebook.com/eddymann.musician/videos/1209966315734892/.
IMEA Award Nominees were selected from nominee submissions, by an anonymous Nominating Committee, comprised of industry pros. Winners in each category will be determined by the Voting Committee and a weighted fan vote.
The IMEA Awards are presented annually by the International Music and Entertainment Association (IMEA). IMEA is a non-profit organization dedicated to promoting and serving as an advocate to individuals and organizations within the performing arts and entertainment industries. The IMEA Awards were developed to honor and recognize the best in independent music and entertainment, internationally.  For more information, visit http://www.imeaonline.com.
A worship leader for fifteen years, it was twenty years ago that Eddy made the decision to offer his creative gifts to God. Since then he's released eight CDs and written countless songs for the church and world at large. A tireless and in-demand  performer, Eddy performs a rigororous schedule of intimate coffeehouse sets, concert events, conferences, and worship services.  Eddy has received coverage by major music publications, and his music has charted on national airplay charts.  Mann is currently on tour, and a winner at the 2016 International Music and Entertainment Association Awards. For more information about Eddy Mann, visit http://www.eddymann.com.