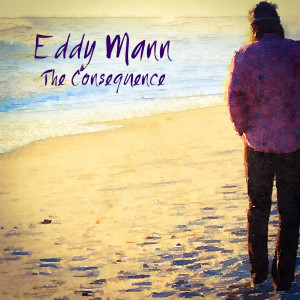 On the heels of the successful September 6th release of his retrospective worship collection, RE: Prize, Philadelphia-based inspirational singer-songwriter, Eddy Mann has announced an Election Day 2016 release date for The Consequence. It will be Mann's first album of all-new material since 2014's Dig Love. The album download will be available on Election Day, November 8th, with pre-sale beginning on October 11th. The Consequence will be available at all major online music retailers, as well as Mann's website at www.eddymann.com.
"It feels really right to release The Consequence on Election Day, November 8, 2016," said Mann. Needless to say, everyone needs to get out and vote…make a difference, and 'sway the consequence!.' The quest to live a loving and compassionate life can be challenging at times. Each day's opportunities and barriers are different, but the power of love is unmatched, and there in lies the journey of this album. Yes we have dark days, but love will see us through them. These songs are the follow up to Dig Love, they continue down the peaceful path of a loving believer, a believer with a child's mindset where anything is possible. This is an Americana, folk-rock, roots, country culture joy ride… enjoy!"
The title track first single and video, "The Consequence," will be also be released on Election Day.  Watch an album preview at https://youtu.be/xYZMS4dCSuA.
The Consequence was produced by Indie Productions and Eddy Mann.
Track Listing:
All I Need is You
Walk In Canaan
Dree
Eleven In a Boat
This Side of Eden
Evanesce
Storm in a Teacup
There's Water in the Well
She's Me
The Consequence
For You and You and You and Me
Howlelujah
A worship leader for fifteen years, it was twenty years ago that Eddy made the decision to offer his creative gifts to God. Since then he's released eight CDs and written countless songs for the church and world at large. A tireless and in-demand  performer, Eddy performs a rigororous schedule of intimate coffeehouse sets, concert events, conferences, and worship services.  Eddy has received coverage by major music publicatoins, and his music has charted on national airplay charts.  Mann is currently on tour, and a winner at the 2016 International Music and Entertainment Association Awards. For more information about Eddy Mann, visit http://www.eddymann.com.
twitter: @eddy_mann
facebook page: eddymann.musician
instagram: @eddy_mann