MTS Management Group is happy to announce Josey Milner has been nominated for Female Vocalist of the Year at the first annual New Country Music Association Awards.  The inaugural awards and red carpet event will be held on April 18, 2015 at Samary Plantation in Nashville, TN.  Tickets for the event are sold out.  Voting for nominees is for NCMA Members only at http://www.musicroadentertainment.com/-new-country-music-association-members-only.html.  The organization has an open door policy, and new members can join for free.
Other Female Vocalist of the Year nominees include Kamber Cain, Brittany Marie, Brittany Bexton, Haven Alexandra, Angie Mongelli, Danity, Megan McMillan, Kelcy Hyde, Kerri Leigh, Lindsey Erin, and Hope Cassity.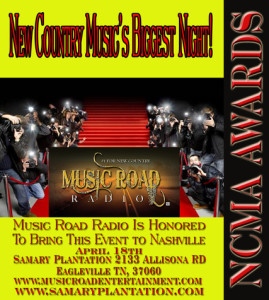 Josey learned of her nomination while performing at an anti-bullying event in her hometown of Kansas City, Missouri, this past Saturday night: "I'm so honored to be recognized alongside this talented group of women.  I am looking forward to meeting them all at the awards event.  Good luck, Y'all!"
The Bully Project event was held Saturday, January 3rd at The Scene Rock Bar.  Josey performed her anti-bullying anthem, "Not Pretty Enough" for the packed room.  Josey also passed out free samples of the Piasecki MD skincare line she endorses.  Other performers included The New Suits, Nuthatch-47, and Missouri Loves Company.
Country music sweetheart, Josey Milner has enjoyed worldwide radio hits, international press and multiple award nominations.  The Kansas City, Missouri native's debut, "Not Pretty Enough" topped the legendary IndieWorld chart, receiving 200,000 Youtube views.  Her follow-up, "Cowgirls" reached  #1 on the respected New Music Weekly airplay chart, also reaching the Top 75 of the renowned Music Row chart. Josey has opened for Scotty McCreery and Chris Cagle, and she has performed alongside Georgette Jones, Ashton Shepherd, Buddy Jewell and more, in Nashville. With a heart as big as her hits, Josey supports Shriner's Children's Hospitals and Angels and Doves anti-bullying. For more information, visit http://www.joseymilnermusic.com.