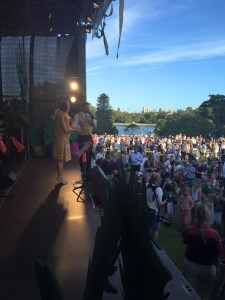 Kinderjazz, the world's only big jazz band for kids, performed for the Lord Mayor's Picnic in Sydney, Australia, on New Year's Eve, December 31, 2015.  Sydney's biggest event of the year was held at the prestigious Royal Botanic Gardens.  Each New Year's Eve, the Lord Mayor of Sydney, Clover Moore, holds the picnic for 2,000 disabled children and their families. This year's event was attended by 5,000 people, with a global broadcast audience of 1 Billion.
Kinderjazz provided all the music for this year's event,with songs like "Tiger Shuffle," jungle drums and swinging jazz solos. The jungle-themed event included actors dressed in animal costumes, African drums for a live drum circle, tents providing face painting and games, competitions, lots of food and ice cream, stories told from the stage and a spectacular fireworks display.
Watch video footage from the event at https://www.facebook.com/Kinderjazz/videos/1662262510698738/?theater.
Kinderjazz is a 12 piece fully acoustic swing orchestra, featuring some of the best musicians in Australia. They have opened Manly Jazz Festival in 1998, and since then, have performed at the Sydney Opera House, Daring Harbour, the Teddy Bear's Picnic at Parramatta Stadium, to more than 10,000 families, Carols in the Domain 2000 on Channel 7, Stadium Australia and many major venues around Australia.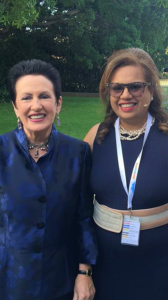 The one-of-a-kind swing band for children has performed in some of the most prestigious venues in the world, and their recorded music is specifically written to engage young children, while simultaneously appealing to adults of all ages. Parents love it because it is jazz and its educational in a fun way, grandparents love it because it takes them back. Children love the rhythms and enjoy the instruments. For more information, visit http://www.kinderjazz.com.