A judge has sentenced the former police chief of a small Sinaloan town to 11 years in prison for the murder of a newspaper photographer gunned down three years ago, the photographer's paper reported today. The sentence is the first time the legal system has prosecuted the murder of a journalist in Mexico.
Gregorio Rodriguez, a photographer for El Debate newspaper was killed outside a torta stand in Escuinapa, a small town on the Sinaloan Pacific Coast. The motive for Rodrigurez' s murder was never made clear. It is said that Rodriguez, who was moonlighting as a freelance event photographer, was shooting photos at a party where the police chief, Abel Meza, was present.
Meza, it's believed, thought Rodriguez was shooting him for the newspaper and because there were some narco-types, traffickers working Ismael "El Mayo" Zambada, at the party, Meza figured the photos were for the newspaper.
A judge yesterday sentenced Meza for the killing, accusing him of being the autór intelectual of the murder.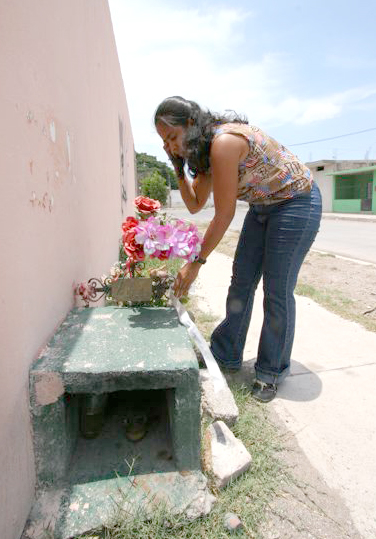 Lawyers and ngos in Culiacán told El Debate they were not happy with the light sentence the judge handed down.
I have a bit of a different take on it – something's better than nothing. This case is one of the first instances where an investigation was seriously conducted into the killing of a journalist in Mexico. Let's hope it's not the last.
** Photos: Rodriguez's wife, Maria Teresa, leaves flowers at the memorial where her husband was gunned down in November 2004.