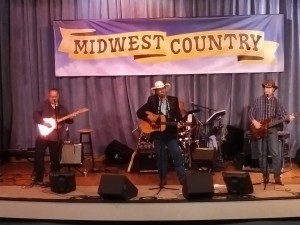 Compiling a long list of hits and chart toppers in the traditional country world, including his recent #1 New Music Weekly am/fm chart hit, "A Better Place," Richard Lynch is an award-winning American country music artist, reminiscent of the classics that started it all. The same passion and raw truth that fueled the likes of Conway Twitty, Keith Whitley, Waylon Jennings, George Jones, and Hank Williams is sewn into the fabric of Richard Lynch. In a world of fabricated country stars, Richard Lynch stands out in the crowd as a proud member of the last of a dying breed, the pure country music artist. An Independent Country Music Hall of Fame Inductee, Richard's rock solid country roots span 3 decades; it comes up with the sun each morning, and it settles in the music he writes and the songs he sings.. The spirit of Richard Lynch is that which is attached to the working man's soul. It's real and it's timeless. It's country, the way country was meant to be.
On September 11, 2016, Patriot Day, "Rural America's Most Important Network," RFD-TV will air a performance by the Richard Lynch Band on their long-running, popular show, "Midwest Country." Lynch is the founder of the Love Tattoo Foundation, a veterans charitable organization. Also appearing on the episode are David Church and Marty Haggard. Check local listings for time.
"Our philosophy at 'Midwest Country' is very simple. We love old country and Bluegrass music. We believe this music played a very important and positive part in the influence on our culture. It's something America has to be proud of. 'Midwest Country' allows so many excellent and accomplished entertainers a venue where they can be seen and heard." – Jeff Jensen, owner of the Midwest Country Theater.
The "Midwest Country" video library contains nearly 400 country artists that have appeared at Midwest Country over the years. The Theater, located in Sandstone, Minnesota, has hosted artists such as Connie Smith, Kitty Wells, Stonewall Jackson, Hank Thompson and David Frizzell.  For more information on "Midwest Country," please visit http://www.rfdtv.com/story/22874886/midwest-country.
RFD-TV is an American digital cable and satellite television channel that is owned by Rural Media Group. The channel features programming devoted to rural issues, concerns and interests. The channel's name is a reference to Rural Free Delivery, the name for the United States Postal Service's system of delivering mail directly to rural patrons.  As of February 2015, RFD-TV is available to approximately 47.3 million pay television households in the United States. It is currently carried by satellite providers Dish Network and DirecTV, as well as through cable providers such as Mediacom, Charter Communications, Cox Communications, Time Warner Cable and Armstrong.
For more information on Richard Lynch, including tour dates, please visit http://www.richardlynchband.com.
https://www.reverbnation.com/richardlynchband
https://www.facebook.com/RichardLynchBand
https://www.youtube.com/channel/UCaKcjmaNkNR4IdXCgTHfhIA
https://vimeo.com/channels/richardlynchband