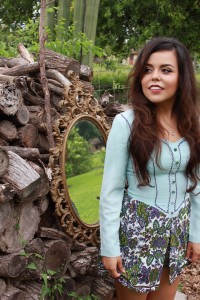 With her debut hit single and video, "He Only Loves Me on the Dance Floor," Madelyn Victoria tore onto the national country music scene like a Texas Tornado. The single shot straight to #1 on the New Music Weekly am/fm country chart, while the video has remained a constant on the Yallwire.com Most Watched Videos Chart single its release in November 2015. It's currently in the Top 10.
Now, this former beauty queen and Radio Disney Dallas Star is bringing her chart-topping talent and infectious personality to Music City USA, Nashville, Tennessee! Madelyn will be performing at a number of live events, beginning on June 5th, at the star-studded Country For a Cause benefit concert with Lulu Roman, Ronnie McDowell and Billy Dean, among others, and ending with a performance at the Chris Top Program's WOBA Awards, for which she is nominated for 6 awards.
Here is her itinerary for the week:
June 5 – Country For a Cause, Nashville Palace, 6pm start
June 6 – Nashville Rocks interview, 11am
June 7 – Stars of Country Music Yard Sale, Music City Bar & Grill, Signing at booth, 11am-12pm
June 8 – Performing Writer Showcase, Fillin' Station, 6:45pm
June 9 – Stars of Country Music Yard Sale, Music City Bar & Grill, performance at 10am
June 9 – Chris Top Program, BB Kings, 2pm interview
June 9 – Commodore Grille, 7pm performance
June 10 – Stars of Country Music Yard Sale, Music City Bar & Grill, performance at 10am
June 11 – WOBA Awards, BB Kings, 6pm start
Madelyn Victoria is an award-winning vocalist, singer/songwriter and pageant veteran from the deep south of Harlingen, TX. A former Radio Disney Superstar of Dallas, Madelyn was also a winner at the 2007 Modeling Association of America International Competition and Convention. She was also named 2009 Los Fresnos PRCA Rodeo Queen, Miss Texas Homecoming Queen, 2nd Runner Up for Americas Homecoming Queen, as well as being named her own high school's Homecoming Queen. A diverse vocalist, Madelyn has won accolades in both Opera and Mariachi studies. More recently Madelyn Victoria and her band have opened for some of the biggest names in country music, including Easton Corbin, Turnpike Troubadours, Tracy Lawrence, Kevin Fowler, Clay Walker, Josh Thompson, Dustin Lynch, Zac Brown Band, The Charlie Daniels Band, and more. Madelyn also gives back to her community, by volunteering at local Motor Training events for special needs children, singing to the children at hospitals and rehab centers and by starting her own annual event called "Octave Higher Christmas" for children. She will be performing during CMA Fest 2016 in Nashville. For more information, please visit http://www.madelynvictoriamusic.com.