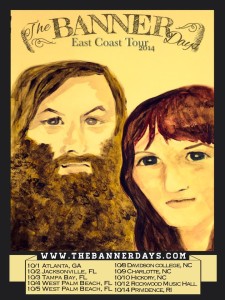 Seattle-based singer/songwriter duo, Bradford Loomis and Beth Whitney are happy to announce their 2014 US East Coast Tour, in support of their critically acclaimed debut album, The Banner Days. The two-week tour kicks off on October 1st in Atlanta, GA and runs through October 14th. The tour includes stops at colleges and "House" concerts in the following cities:
10/1 – Atlanta, GA
10/2 – Jacksonville, FL
10/3 – Tampa Bay, FL
10/4 – West Palm Beach, FL
10/5 – West Palm Beach, FL
10/6 – Duluth, GA
10/8 – Davidson, NC
10/9 – Charlotte, NC
10/10 – Hickory, NC
10/12 – Rockwood Music Hall NYC
10/14 – Providence, RI
For more information or to book a tour stop for The Banner Days, visit www.thebannerdays.com.
The duo of Bradford Loomis (guitar, vocals) and Beth Whitney (ukelele, vocals) began as a casual co-writing experiment.  From the first time they played together, along with Beth's husband/collaborator, Aaron Fishburn, the chemistry has been powerful. The combination of Beth's delicate, pure, and melodious voice and Bradford's soulful, growling tone makes for a beautifully heart wrenching harmonious blend. With equal parts sweetly anthemic, pop tinged folk, provided by Beth, and Bradford's gritty, passionate Americana Roots sound, The Banner Days is an intrepid step for both artists.  They are currently West Region finalists in the 2014 Mountain Stage NewSong Contest.