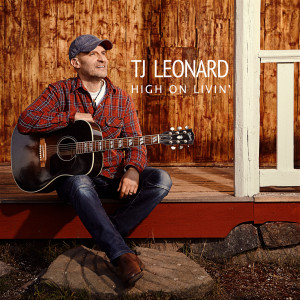 MTS Management Group and MTS Records are happy to announce the release of Swedish country artist TJ Leonard's debut solo album, High On Livin'. The album is available for purchase and streaming at all major digital music retailers, worldwide, including itunes, amazon, rhapsody, spotify and others.  Physical copies of the album will also be available at amazon on demand. The album contains the Top 40 New Music Weekly single, "Remember Those Times."
Track Listing for High On Livin':
1. The River
2. Remember Those Times
3. There's No Doubt
4. High On Livin'
5. Up On That Hill
6. American Dream
7. Paradise Road
8. No Fake On You
9. The Right One
10. Redneck Neighborhood
Watch the video for "Remember Those Times" at https://www.youtube.com/watch?v=K9O4aN7sfRM.
Swedish country singer/songwriter, TJ Leonard got his first guitar from his grandfather, when he was eight; he taught his grandchild to play Swedish folk music and evergreens. Soon, TJ was introduced to pop and blues through his cousin, who was a little bit older and played in a famous Swedish pop band. At eighteen, TJ became lead singer and guitar player in a dance band. Many genres have passed through TJ's life: Jazz, hard rock, gospel, soul/r&b, but not until country music came along, did it feel like home. Together with Tex Taylor, he started the band, CHESTNUT, in 2010. Later that year, they released their first single, "110% Country," followed by the EP, American Dream. CHESTNUT played at most of the country festivals in Sweden and Denmark. In both 2012 and 2013, they were nominated in the Swedish Country Music Championships. In late 2013, TJ decided to release his songs under his own name, TJ Leonard. TJ is a Top 50 CMT.com Most Popular Artist, an Academy of Western Artists award nominee, and a Top 40 New Music Weekly charting artist with "Remember Those Times."  http://www.tjleonardcountry.com
For more information on MTS Records, visit http://www.mtsrecords.net
For a review or airplay download of TJ Leonard's album, High On Livin', please contact michael@mtsmanagementgroup.com